Our customers are wonderful
"We've had our fence for 8 years…we have branches falling all the time and the fence holds up very well…we have room to expand the paddock… I'd caption the photo " safe and sound" as I know they feel secure in their setting in the bush. We watch them all the time from the house and the fence doesn't distract… I've had someone say…" So you just let them go wild out there". "
Lu

cy B. - Phelpston, ON
"Merci pour vos clôtures si efficaces, particulièrement en hiver avec mon testeur de clôture…je ne parle pas de l'appareil mais bien de mon cheval J."
Pascale D. - Shawinigan, QC
"Nous avons un ranch en Mauricie. Nous avons commencer à utiliser votre ruban il y a 7 ans … et il est encore intact. Nous sommes très satisfait de votre produit.. il nous permet d'avoir des installations plus fiable et plus sécuritaires."
Bianca L. (Ranch Pilon) - Shawinigan, QC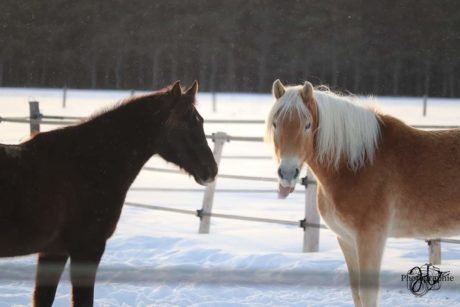 "We built our Horseguard fence in Spring 2017 as a permanent setup with wooden posts and so far we are very happy with the functionality and the look of it. We have a very curvy fence line, following a tree line, and the Horseguard system works great there. We're getting asked about it a lot and we keep recommending your system."
Evi B. - Canmore, AB
"Thanks Sandrine, it arrived today and I've got the fence completed! Love the product and find it easy to put up. Our fields look good with your fence!! Thanks so much for your time and product, have a good one."
Darren D.,  Crapaud, PE

"I love your product and will be ordering more comes spring time to expand our already existing pasture/paddock to create a 'paddock paradise', active living area for our horses. Kind Regards."
Sonja W. Lisle, ON
www.barefoot-saddlecanada.ca
"We installed our HorseGuard Bi-polar fencing 2 years ago. We love it and plan to use the product to fence another portion of our property soon. We live on a busy road, so its important that our horse is safe and secure. He respects the fence and we have never had any trouble with it. We have had 5 strangers knock on our door to ask what kind of fence it is, as it looks great!
We actually have a handful of your brochures (we picked up at Can-Am) that we give people. Can't say enough good about it!
Thanks for the opportunity to win some of the product!"
Sherrie & Mark McL. Ridgetown, ON
"We had a bad snow storm with some tree branches landing on the Horse Guard Fencing. I removed the branches and have attached before and after photos for you.
All is well as your fencing system can stand the worst of winter weather remaining in perfect condition. Thanks again!"
Lynn D.  Markham, ON
"I just got this… have it HALF installed and I'm already liking it!!!! Once you get on a roll, it is easy to install. This winter has been horrible to run an electric fence and this fence is saving my hiney!"
Jocelyn K.  Brandon, MB
"The fencing attracts a lot of comments from my customers when they visit the farm. Everyone is really impressed, the only negative comment I ever hear is they wish it was available locally. A lot of people still don't like ordering online.
Thanks for everything; I'll definitely be ordering more as we expand!"
Debbie K. Winnipeg, MB
"I successfully completed the installation of the electric fence. Thank you very much for your support and patience. Future fences installation will be much faster.
Medhat A. Bolton Ouest, QC
"I realy like this fence! its the first winter I didn't have to worry about my horses."
Marianne S.  Cochrane, ON
"In the middle of a very cold and bitter winter, the fence is holding up well. We had a nasty blizzard with 80kmh winds that stretched the fence a little bit, so I took the opportunity to tighten it and remove the bits that were wrapped around the posts.
One horse had a temper-tantrum and had broken one of the clips. This was easily replaced in about 2 minutes.
If there is anyone in the southern Manitoba area who would like to look at your fence in operation, don't hesitate to ask me to show it off for you.
Again, thank you for this great product."
Martin B. Oakbank, MB
"Thank you for the quick delivery of the fence. Our installation in mid-November required a non-ground rod system, and your product was installed very quickly and very easily, by us – bumbling amateurs. Of all of the horse-related construction on our new property, the fence was the least difficult.
Design changes along the way had us go from the planned 3-strand, to a two-strand. But the flexibility of the system allowed the change with great results. We are using a 12-volt charger and a newly charged car battery (not a deep-cycle) lasts about 4 weeks in sub -18C average temperatures. A fully charged battery is set for 11,000 volts. Since our horses have either very thick winter fur, or blankets, the high-voltage is required to shock through their insulation.
The horses have not tested the fence yet (they have been around other electric fences to know to stay away), but I have shorted the two wires in front of them with the metal handle of a shovel to produce the zap. The experience of that little spark spooked them enough to respect their new fence. Thank you for a great product! We look forward to many years of service."
Martin B. Winnipeg, MB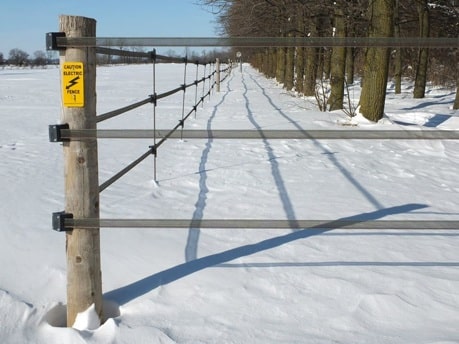 "I bought your product to do temporary fencing as my fencing was already done. However, I have found it to be such a great product, and at a great price that I have talked to all the horse people I know. I have also given them some samples of my tape. Great product."
Nancy J.S. Wooler, ON
"This is the first winter with Horseguard fencing and I am happy to say that this is the first year the horses haven't broke through into the other paddocks once they figured out that their old electric fencing wasn't working properly. Although the power through the Horseguard wire is lower they still respect the Horseguard fencing."
Catherine RG. Holstein, ON.
"This fence is great! my chewy horse touches no fences at all anymore."
Marianne S. Cochrane, ON
"Thanks for getting this figured out so quick. I had some tape left over from my original order, so I'm doing a second paddock (hopefully before winter). I just love this fencing; wish I had known about it when I first built this place! Thanks again. The fencing attracts a lot of comments from my customers when they visit the farm. Everyone is really impressed.
Thanks for everything; I'll definitely be ordering more as we expand!"
Debbie K. WINNIPEG, MB
"Juste pour vous dire merci encore pour votre support pour mon projet de clôture électrique.
Aussi je veux féliciter votre entreprise pour la qualité de vos produits et pour leur facilité d'installation Ce produit est d'une grande efficacité avec notre climat hivernal. Mes derniers éloges vont a votre système de distribution. Le système est très efficace et j'ai été très bien reçu."
Sylvain B. La Prairie, QC
"J'AI ACHETÉ DERNIEREMENT DU RUBAN BI POLAIRE ET TOUT LE MATÉRIEL POUR FAIRE MON PARC 100 X 200 … J'AI TOUT INSTALER ET CA TRES BIEN ÉTÉ ET JE SUIS HEUREUX DU RÉSULTAT SI J'AMAIS J'AI BESOIN D'AUTRES CHOSES SOIS CERTAINE QUE JE VAIS COMMUNIQUER AVEC TOI CAR J'AI EU UN BON SERVICE ET CA ME REND HEUREUX."
 JOCELYN B.  TROIS RIVIERES, QC
"Horseguard fence is wonderful. This is by far the fastest and easiest electric fence to install, easy to tension; one person (like me!) can install it very quickly without any help too! And the little lights are great for a quick check at night that the fence is still operating. My horses and my dogs are all very respectful of the fence. I'm very glad that I ordered your product."
Kathryn V. West Lorne, ON
"J'aimerais vous exprimer en quelque mots ma satisfaction concernant votre système de ruban de clôture électrique bi-polaire. Autrefois, nous avions un système conventionnel que l'on retrouvait partout dans nos commerces et qui étaient totalement inefficace l'hiver. Ayant à construire plusieurs enclos dans une période de 5 ans, ayant lu votre annonce dans une revue équestre, je me suis laissé tenter par l'expérience pour 2 de mes enclos. J'ai construit un petit enclos pour mon étalon et y ai mis 2 juments à l'intérieur, juste pour voir ce que ça donnerais.
Quelle ne fut pas ma surprise de constater la facilité d'installation, la stabilité du pouvoir électrique et la robustesse du matériel, l'harmonie de la couleur avec l'environnement et enfin la facilité d'adaptation en montagne. Bref je suis entièrement satisfait. Au printemps prochain, je construis mon deuxième enclos pour juments et les autres plus tard mais soyez assuré que seul le système Horseguard y sera installé."
 Gilles G. Ranch N-gi – Rivière Rouge, QC
"Hello Sandrine, This is the west coast ordering more fencing… 🙂 We all love your HorseGuard fence … it is awesome."
Merlin H. Abbotsford, BC


"You've got a customer for life! Thanks for a great product. A large wind storm brought down a huge tree limb onto our fence last night… No broken plastic clips, no broken posts. This is the second house that we have used HorseGuard fence for our pasture… As shown by the attached 'before' and 'after' photos, it took me only about 15 minutes to clear the downed limb off the fence pull the three strands of HorseGuard fence tight, and turn the fence back on."
Rod R. Salisbury, NC
"We looked into several electric fence products before settling on yours. We are so happy that we chose HorseGuard. It is very well engineered, well manufactured, well thought out, easy and fast to install. We couldn't be more pleased! If ever you have a potential client that would like to see HorseGuard fence before making a purchase, we would be more than happy to show them how terrific your product is."
Allen and Vicki K. Goshen CT
"Have used your fencing for over 10 years and I can t say enough about it. The horses truly respect it and will slide on rears on ice before they get close to the fencing. The elk and deer go through it and occasionally stretch it, but with a bit of a pull, it is back the way that it is supposed to be. We absolutely love it."
Merry H. Colorado
"I have been using your system for over 7 years. I like that you are constantly thinking of ways to improve your already fantastic products. I tried in a pinch to buy a look-a-like at the feed store and it was pathetic. The tape was slippery and would not hold tension, the insulators were difficult. Never again. You are the best."
Lorna W. Lake Tapps WA
"We have had great luck with HorseGuard Fencing. One of the best things about this fencing is that it can be put on smaller posts. This makes a HUGE difference in the cost of the whole fence. The posts can be set up to 16' apart, also contributing to saving. Our pastures/paddocks are 3 strand and the stallion paddocks are 4 strand. It has held up well for us and we've not had a single injury since we started using it. Like any electric fence it needs a good fencer and good ground rods to work properly. BUT… all electric tape is NOT the same. Stick with HorseGuard."
Patricia.L South Dakota
"We started using your fencing in the fall of 2000. I love it! It s safe for the horses, it weathers well in our Wisconsin winters and best of all, I can fix it or change it at will since I am here alone quite often. It looks beautiful and stays that way. Thank you for making an exceptional product…"
Carol S. Wisconsin
"We installed the Bi-Polar Fence in December of 2008 in twenty degree weather. It was easy to install and survived one of the worst ice storms the Northeast has seen in decades. In addition, it did well buried in two feet of snow! Not only does it look great but it is TOUGH and works all winter long ! it is the ONLY electric fence I will ever use."
Heather P. New Hampshire
"…I never cared for or considered electric tape before, because when I had seen it used on other farms and paddocks, it looked like CRAP flapping in the wind, sagging, etc… HorseGuard is the best I've seen, and if it does look professional, safe, attractive, it's because it is! I wish I did this a long time ago, I'm looking forward to a maintenance free fencing system. Thank you for creating a product that horse owners can truly rely on for safety and durability."
N. L Cameron, NC
"I have been a satisfied customer for many years. You have the best fencing product on the market!"
Linda P. Illinois
"We put our pasture fencing up 18 months ago and love it so much that now we are ordering materials for a corral. We used two strands of HorseGuard for the fencing around our 8 acre pasture, but we did use one strand of a competitor electrical tape for one section (about a 200 ft. line). Our Nebraska winds gave the fencing the test and caused the non-HorseGuard strand to fray and actually break, while all the HorseGuard strands look as good as new. Thank you for a great product!"
Barbara C. Nebraska
"I have been using fence guard around my horse farm for 16 years. The original fence is still up and in good condition and we keep adding more. Thank you for such a sturdy, reliable product!"
Ralph E. Ohio
"My all time favorite electric fence is the "HorseGuard bi-polar tape" that has the ground in the tape itself. It requires no ground rod ! Our solar charger is a 6 volt/10 amp. My hubby periodically tests the tape with his voltage meter and its always at the correct voltage. I really love it. Is so easy to use as I rotate pasture. I cant say enough good things about it."
Leslie C. Kentucky
"We've been using HorseGuard for over 10 years now. It s a great, durable product. We tell any of our horsey friends they need to consider it for their horses."
James N. Missouri
"I' ve had my HorseGuard fence for 6 years. Still looks great, unlike the cheap imitations you get at the farm supply store. Our horses have gotten caught up in it a few times over the years, never even a scratch from the incident. There is only one tape worth installing and it' s HorseGuard!"
JIM B. Minessota
"Have been using your fencing for 2-3 years now both for perimeter fencing and pasture subdivision. It s windy here, and I've found it desirable to keep post spacing no greater than 10 feet. Thanks for good products!"
Susan. Maryland
"I am expanding my existing bipolar fence past the man-gate. Your product has worked extremely well and has protected our split rail vinyl fence from the horses trying to get to the lawn on the other side… It is GREAT!"
Robert B. Utah
"We love our fence! Keeps in everything from TB horses to Friesians with no problem!! And, better yet, it keeps the deer out. Thanks again."
Rebecca M. Tennessee
"Great product! Have used this fencing for 8 years now, and never had a problem with it! Cold Wisconsin winters, and hot summers!….. the fencing holds up just great!"
Lynn B. Balsam Lake, WI
"Researched a variety of products several years ago, yours is the best by far and has held up very well especially in the high winds here in SD."
Julia B.
"I placed an order for the first time two years ago when I thought I would be needing to set up a pen for my horses where there was no existing fence. We didn't end up needing it until now and I have been busy putting up a large 300 by 100 pasture and just love the easy installation of this electric tape fencing! A repeat customer for sure, and will be again next year when I am ready to enclose another pasture."
Danielle S .Illinois
"Best fencing materials I've seen. Excellent design, materials and construction. I m hooked. (Now if you only took American Express!)"
Robert B .Washington
"Best fencing materials I've seen. Excellent design, materials and construction. I m hooked. (Now if you only took American Express!)"
Robert B .Washington
"This product is worth every penny!!"
Anmarie C. Virginia
"We put this fencing in last year for a paddock. We love it!! It looks nice and it was very easy to install. Oh, and its safe and the horses respect it."
Evelyn P. New Hampshire
"I have been using your product for years and could not be more delighted with its ease of use and its overall performance."
Carol M. Indiana


"You have the best electric fence out there! I recently used S. F. and was so disappointed in the quality of the tape. I will stick with you from now on!"
Crista V. Idaho
"I have used your product for 7 years and I consider it to be the best available. In fact, a hurri "Have used your fencing for years, the old stuff is still going strong and has even been moved from farm to farm. Amazing Thanks for a truly exceptional product."
Laurel
"Your fence product is simply outstanding. I was reluctant to order an online fence product but the fencing system seemed so well thought out and I also had a testimonial from a personal friend so I took the leap. The new insulators make life so simple and the aesthetic appeal is very high. I can't thank you enough for providing such a superior product."
Bill H. North Carolina
"Your products continue to be a superb value. Wish everything I relied on for my horse farm would be as reliable, and safe, and long lasting. Any chance you are still offering the little flashy lights with all orders? I sure could use one more for the newest section of fence I am adding to my fence acreage. This little thing is great, you can see from the house what s going on with the fence, but I guess you know that already. Kindest Regards."
 Laure
"Have used your fencing for over 10 years and I can say enough about it. The horses truly respect it and will slide on rears on ice before they get close to the fencing. The elk and deer go through it and occasionally stretch it, but with a bit of a pull, it is back the way that it is supposed to be. We absolutely love it!"
Merry H.Pine CO
"Your fencing is fantastic, after I get it figured out. I'm 60 and have done it all by myself. I have 2 new long cross fences, one a 2-strand on fiberglass posts, the other on t-posts covered with green insulators, plus put up 2 separate long fiberglass fences to keep the horses away from the high-tensil wire, and then put up 2 rows of extended insulators. Everything in my field is GREEN and gorgeous; no more floppy white electric tape. Visually: I'm green. Thanks."
Cindy M. Pleasant Hill,OR
"LOVE your fencing. It's so easy to care for. I can check the easily visible tape as I drive past my pasture on the way to the main gate. What a pleasure to see it all tight and secure with my horses safe inside. Thank You"
Susan R, Pollock Pines, CA.
"We love your product! It is an effective way to fence as well as an appealing view. It s nice to be able to move the fencing when needed and never have to paint!"
Dennis S. Maryland


"This picture taken in a 40 mile per hour wind shows the HorseGuard tape holding steady (above) and a poor quality brand tape fl apping below…. Best fence product on the market. Used HorseGuard fence for the last 10 years in Michigan through the cold, snow and heat stands up to it all."
Ken D. Schoolcraft. Mi.
"This is video footage of our fence in Saskatoon, Saskatchewan  . It is -25 Celsius with a new 8"of snow today. This is the old light for the system but it is still lighting up the tester with a good 2+ feet of frozen ground. I am still wanting to distribute this product in western Canada".
Laura.M - Saskatoon, SK.