EXISTING HAZARDOUS FENCES
Twisted or smooth yarns, sheep fences or cords can be dangerous for horses. If you can't remove them, add 4 cm. of electrified tape!
Fencing lines or rails of less than 4 cm. are not reliable visual barriers,  but as physical barriers present the possibility of harm.

BARBED WIRE
7 horses out of 10 are still contained by this terrible fencing method, whose owners are often unconscious of the risks. Horses' poor eyesight does not reliably perceive barbed wire, which can tear their skin, cut tendons and cause serious infections.



THE SQUARE MESH GRID
If horses are repeatedly leaning on the top of the fence to  eat the neighbour's  flowers, it eventually sags or breaks.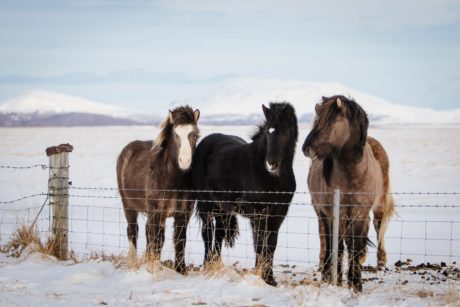 TWISTED OR SMOOTHED YARNS AND BIKE CABLE ELECTRIFIED
These great "cutters of tendons" have the advantage of being impassable, but are almost invisible, so should be doubled with a tape.

ORANGE STRING
In situations of play or haste, horses do not see string well. If danger is perceived farther away: the road, the barbed wire of the neighbor, the ravine, etc … the little metal that it contains may not be provide effective restraint.

THE ELECTRIFIED CORDELETTE
When it first appeared in Sweden, it was determined to be dangerous: too strong (2 +/- tons   break resistance) and too narrow (8 to 12 mm).

HEDGES
When they are very dense, well pricked and well pruned, hedges are a solution. But they can develop holes. Filling them with wire is not effective because the horses, not seeing the wires, can gallop into them believing the passageway clear. Fill hedge breaks instead with 2 or 3 rows of tape, even if not electrified.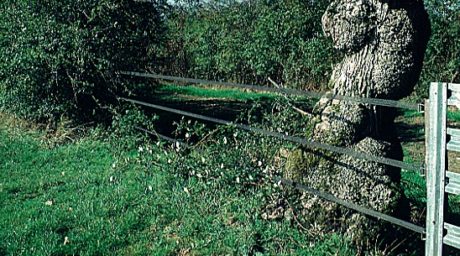 CEMENT ENCLOSURES
They are often too low and can be dangerous if the horse accidentally collides with or kicks them. This problem is easily solved with tape placed in between the 2 rows attached to a regular #8bl insulator to prevent the horses from bumping, scratching or passing their heads through to graze. To raise the fence height with HorseGuard tape, drill the tops of the stakes and insert fiberglass posts with an insulator (# 8bl).
PLASTIC FENCE RAILS
A horse that rubs can apply more than 200 kg. of lateral thrust. Plastic is brittle, but it can be protected by 1 or 2 rows of electric tape.

WOOD BOARD FENCE
The horses gnaw at them and rub on them and can knock the planks out! To avoid this, double up board fencing with electrified tape.
MAKE IT SAFE WITH HORSEGUARD!
A row of HorseGuard tape protects your horses and your fencing.
To keep horses safe and prevent them from chewing or rubbing on the fence, HorseGuard #13EX extender can be installed on all types of stakes.
One row of tape with HorseGuard's Extender projects the tape one foot from the posts to keep animals back from the fence.