What is HorseGuard?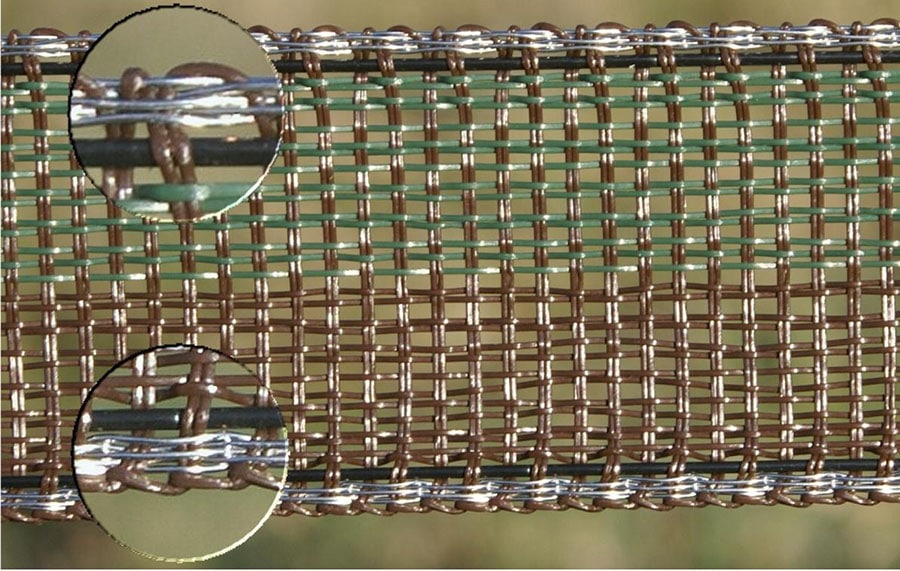 THE ORIGINAL BI-POLAR TAPE
The development of electric fencing tape radically transformed the concept of horse containment.
HorseGuard is the original electric tape fencing system with proven durability of 20 years.
Sold direct via our online stores at factory pricing and shipped throughout Canada, this Bi-Polar fence tape system is fully effective in snowy, icy or very dry soil conditions – without the need for a problematic ground rod! This is the all-season fencing solution for all weather conditions, which provides an effective VISUAL, MENTAL and PHYSICAL barrier respected by the horse.
The world's leading choice of horse fence was designed by a horse breeder and developed at LA SANGLIERE. Manufactured to maximize safety, the ORIGINAL tape fencing system delivers security for horses and peace of mind for their owners.
Presented at the famous Paris Horse Show in 1985, HorseGuard won 3 of the 12 awards given:
BEST PRODUCT
BEST TECHNICAL ACHIEVEMENT
BEST ORIGINAL IDEA
How does it work?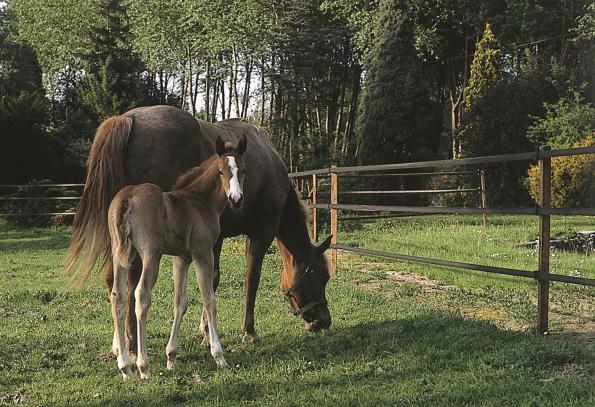 HorseGuard Bi-Polar electric tape fencing is an effective visual, mental and physical barrier powered by a low impedance fence charger strong enough to maintain a minimum of 4000 volts on the tape.
The top green edge of the tape is the positive connected to the (+) on your charger and the bottom edge is the negative connected to the (-) ground on your charger.
Zapping occurs when the horse makes contact with both edges of the tape.
Due to the bi-polarity of the tape (+/-), a ground rod is not required. Even in a sandy, snowy or rocky ground, the conductivity of your fence is assured in all weather conditions.
The Bi-Polar fencing system is your all season, all climate and all round fencing solution.
Mental barrier
INVENTED FOR HORSES IN 1985
Bi-Polar tape carries positively and negatively charged lines. When the animal touches the tape it is shocked for a fraction of a second.
This zap between 4000 and 7000 volts is harmless but associated with the fencing it creates a mental barrier for the horse.
Since the dawn of time, horses' means of salvation is flight. So at the moment of distress , only the perception of an insurmountable barrier can be effective.
The associations with the shock experience must be well learned to be retained. Foals, once exposed, generally remember and respect HorseGuard fence tape throughout their lives.
To ensure respect for the fence is maintained, the charger is kept 'on' all the time providing permanently a minimum of 4000 volts onto the tape.
Physical barrier
HorseGuard tape resists up to 600 pounds of pressure on contact, but will break to avoid injury if a horse does run directly into the fence.
35 years of use by thousands of horse breeders has made Horseguard the world's leading choice for horse fencing.
But it's also safe and effective for other animals : cows, lamas, camels and even elephants!
Visual barrier
AESTHETIC AND HIGHLY VISIBLE
Horses have blurred vision. They can see in a radius of 350 degrees (humans see 180 degrees), but their eyesight is poor with a very limited sense of perspective and blind spots in front and behind.
A fence that is difficult to see can be a hazardous. With the horse's instinct to flee from danger, it might not see or might ignore a lesser obstacle in its flight path.
HorseGuard presents a barrier as broad as a tree limb that is acknowledged during split-second reactions. Barbed wire or orange electrical strings may not be – and certainly not dead ahead in their blind spot.
1.5-in. /4-cm wide Bi-Polar HorseGuard tape creates an effective, reliable, visual barrier.
HorseGuard advantages
THE SAFEST FENCING SYSTEM FOR HORSES
Since 1985 in France = Since 1987 in Europe = Since 1990 in the USA = Since 2005 in Australia = Since 2010 in Canada
The HorseGuard electric fence tape was designed and developed by an experienced horse breeder with horse safety in mind.
34 years of intensive research and continuous improvements to our products have created a secure, aesthetic and reliable fence solution.
Horses of all breeds, sizes and ages can be safely fenced.
Sold directly on our online store at factory pricing.
Fast delivery to your home or pick up from our Canadian warehouse.
Proven successful and sustainable in extreme weather conditions around the world, from -40 ° C in Scandinavia to + 75 ° C in the Middle East.
Can be installed with existing fencing, permanently or temporarily.
Excellent conduction: 10 stainless steel wires of 26 Gauge/0.40 mm diameter in a 1.5″/4 cm wide tape.
Durable – 30 strands of UV-resistant polyethylene of 0.50 mm diameter + 2 large bumpers of 0.80 mm diameter at the edges make our tape rigid (not very fragile like low quality copies) to increase efficiency and keep the tape from bruising.
No detail overlooked: the tape is woven to reduce wind resistance; polyethylene is treated against UV rays; all metal parts are made of stainless steel to prevent rust (reducing conductivity) and the insulators are designed to protect it from wear.
HorseGuard tape is strong and built to last. It withstands pressure up to 300 kilos (600 lbs).
Our customer service provides free quotes, advice and installation tips.